GS Gacha Trade and Chat!
Members:
1156
Open Enrollment
Gacha Trade and Chat group for all gacha enthusiasts to advertise their items, yardsales or lists and keep up with current Gacha Events. All are welcome. Please keep posts reasonable in length (5 lines or less) and be nice! Please only post once every 4 hours.

NO RENTAL ADVERTS PLEASE! NO BOTS! NO ADVERTISING MARKETPLACE STORES IF YOU DO NOT HAVE AN INWORLD SHOP !

Advertise your stalls and yardsale - public or private, wherever they are! GACHA ONLY PLEASE!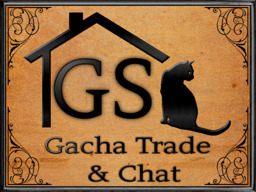 ---
Link to this page: https://world.secondlife.com/group/0bbc9f0e-37cf-cf40-0b67-bbd47f38be2a