Cyn Sweetwater
Resident Since: 2008-08-17 (14 years, 9 months ago)
I am appreciative for mature, well-spoken, libertine gentlemen who can distract me in idle moments. For anything beyond intelligent conversation, be human-sized, please. (≈2m/6'6" or less.)

This is the only 'me' there is. I don't have a 'good girl' avie and a 'naughty' avie. Like RL, I'm complex and fairly open about all of it, I have many facets, polish one.

Feel free to IM me, but dear godz please be interesting. And don't be a dick or a creep, ffs. Fluent English, please.

I don't mean to be difficult. Usually. :) But I mean, I have standards. Don't you?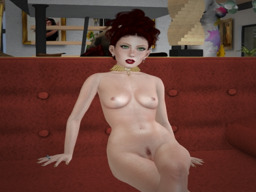 ---
Link to this page: https://world.secondlife.com/resident/d0b172f5-2801-4251-8e83-8fa9fa54966b