Sky Hye
Resident Since: 2006-12-08 (16 years, 6 months ago)
I was interviewed on Tonight Live with Paisley Beebe! Here is the archived show:
http://treet.tv/shows/tonightlive/episodes/tlpb-11apr10

See Picks for my art!
I paint, model, animate, and teach animators figure drawing at local companies, like EA (Electronic Arts).
I animated my [human] stands, walk and run, and I made my own skins, boots, and much more.
Sometimes I'm a quadruped cat or a raven.
I have lots of art interests I love to discuss, but 'small talk', well, I'm terrible at that!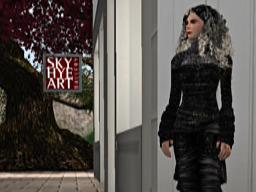 ---
Link to this page: https://world.secondlife.com/resident/9c1afd9b-f69d-4666-802f-3321e31ec228