Whiskey Monday
Resident Since: 2009-07-12 (14 years, 4 months ago)
Just call me Dammit Whiskey. Everyone else seems to.

Don't hold me to this, because I've been known to change my mind- I'm a slut for chocolate cookies, I love dirty blues, and I crave good conversation laced with wit and sex and intelligence. Tomorrow that could all change. But not the part about the cookies. Or the blues.

https://flickr.com/photos/whiskeymonday/

I am the first person to write these words in this order.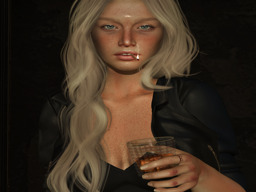 ---
Link to this page: https://world.secondlife.com/resident/20fa5050-b0c7-4cf2-9e5f-1d4798dc3695