Kaeru Grenn (kaerugrenn)
Resident Since: 2018-12-08 (4 years, 9 months ago)
I am someone who sits at my place and chills with tv.
Send a message if ya want.
[17:56] Greedy Greedy Game v3.0.7 whispers: Kaeru Grenn has unlocked the achievement "Found A Cute Therapist"!
**fine print**
Thank you for your interest but I don't do casual hookups. Even if I'm drunk, partying naked, swinging my bikini top around like a helicoptor and acting the fool, I'm not having sex with you.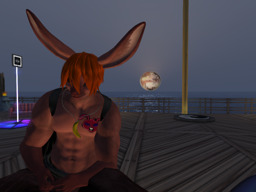 ---
Link to this page: https://world.secondlife.com/resident/103bb8d3-977d-466a-81d3-e07f5b4b9ce3