Club Erotic Desires Vips
Members:
1490
Open Enrollment
Welcome to the Club Erotic Desires VIP group, via this group we keep you informed of upcoming DJ's, events and further information.
We're Hiring - Dj's -,dancers (scheduled and non scheduled ) & Hosts.
Please ask mangerment for Appliction or. pick up from inside. :)
No Spamming allowed if caught you will be banned.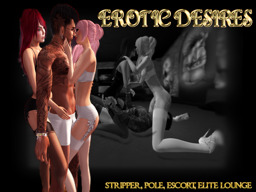 ---
Link to this page: https://world.secondlife.com/group/f3a9a37f-eb7c-6f1c-aca6-a2148b2662be