Hot Weekend Sale
Members:
743
Open Enrollment
Hot Weekend Sale at 69L
Fri 9am to Mon 12am
https://hotweekendsale.com
Hot Weekend Sale gives shoppers the opportunity to main store
shop some of the best brands with in the SecondLife Community and grab a hot sale at only 69L$.
Hot Weekend Sale starts on Friday 9am and ends on Monday 12AM, at each main store.

HWS sales HUD is sent out EVERY Friday by 9pm SLT. Limit chat to Hot Weekend Sale content. Chat may be turned off if rules are not followed. Do NOT post links, surls not related to HWS.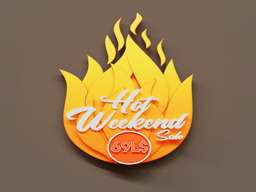 ---
Link to this page: https://world.secondlife.com/group/6b7c189a-731a-9b46-354f-fe659a444cd4