LIONHEART Community
Members:
733
Closed Enrollment
LIONHEART Virtual Estate
http://www.lionheartsl.com
= Lionheart Community =
==================
This group is open to all residents and friends of the Lionheart Community. Join from any LEMS Parcel Terminal. Menu path: My Account > Groups.

This group can be used for social chat between Lionheart residents and friends, as well as for Lionheart Residents announcing events happening on their Lionheart Land *ONE announcement per day only*.

Disturbing the peace = Ban.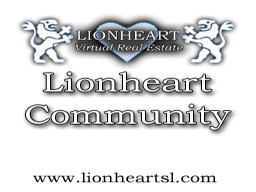 ---
Link to this page: https://world.secondlife.com/group/40e129f4-4d63-00f2-e39a-a9e8d8439f1e