DJ Dayna / DJ Zoe Newsreel
Members:
46
Closed Enrollment
For fans of DJ Zoe Jimenez / DJ Dayna Pinkerton.
Zoe Jimenez plays mixed electronic sets. indie, or any genre under the sun.
Pushing the boundaries of genre with over 190,000 tracks.
ZOE: SMASH Mon 5-6pm / TUE 4-5pm
Plus extra sets and more!
DJ Dayna is on hiatus.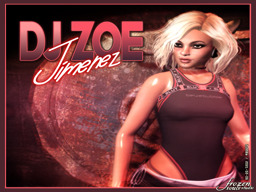 ---
Link to this page: https://world.secondlife.com/group/2a1d09bb-d4aa-0caf-b60c-43599f5f445e