KittyCats Addicts
Members:
26743
Open Enrollment
A very warm welcome to KittyCatS!

We are happy you found us! For those who prefer a "Quiet Kitty" group with no chat, please join KittyCatS! Notices & Information!

Our simple guidelines:
1. Keep chat respectful.
2. Please discuss selling, prices, giving & trading in some of the great groups some of our members have created (use search to find them)
3. If someone doesn't follow a guideline: Please IM THEM PRIVATELY, and gently remind them. (this is to keep a pleasant chat environment)
4. Have fun!!!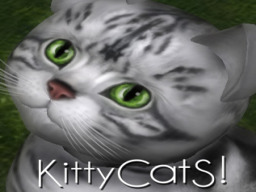 ---
Link to this page: https://world.secondlife.com/group/277f5464-f119-e489-4517-ad3d0dd63cc8